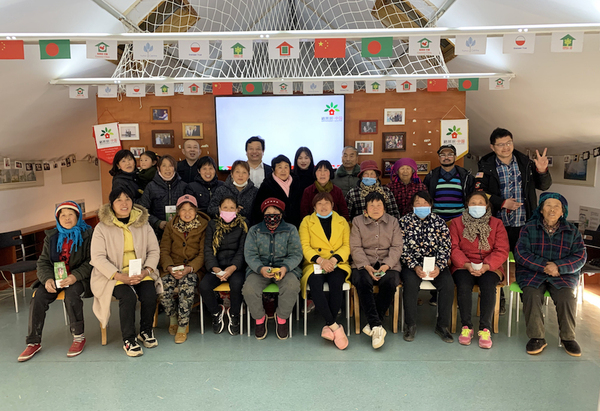 On April 10th of 2020, the Grameen China Lukou branch held a mini meeting, hosting 19 women representatives from Lukou and surrounding villages. The Grameen model requires that before the members' group training, a mini-meeting is arranged in the target community. This process ensures that potential members understand the rules and policies of the project, and also avoid the problem of delaying the formation of teams.
During the meeting, the project objectives, standards for forming a group, and participation in the center meeting were discussed in depth. After the potential members are aware of the necessary information, those who are still interested in joining the project can begin their group training. Gao Zhan of Grameen China, Muslemur Rahman, the Grameen Bangladesh expert, the Lukou Branch Manager, and the rural revitalization counselors of the Lukou branch attended the meeting.
When the meeting began, each woman introduced herself and their production and business activities. Most were involved in agricultural and business activities such as farming, raising sheep/rabbits, and running small shops. They were all affected by the Covid-19 pandemic to varying degrees, and urgently needed support to resume their work.
Muslemur Rahman delivered more than 30 years of work experience at Grameen Bank to the women representatives at the meeting, and expressed that Grameen Bank not only provides financial support to low-income women, but also forms firm bonds between each member through grouping them into 5-people groups, and provides psychological support. The Grameen bank model is well-known throughout the world, utilized in more than 40 countries and regions around the world, supporting 16.88 million low-income families. Even in the United States, Grameen is developing rapidly.
Gao Zhan, the president of Grameen China, pointed out that Lukou Village is the birthplace of Grameen China. With the support of national leaders, Professor Muhammad Yunus visited Lukou village in December of 2014 and founded Grameen China. In 2019, the China Construction Bank (CCB) and Grameen China reached a cooperative stance, and opened 10 cooperation project sites in Shenzhen, Shanxi, and Henan, so that the CCB-Grameen project can benefit more low-income women.
During this pandemic, the members of Grameen united, utilizing the network of the Grameen team and the center network to defeat the pandemic as a collective, reflecting the benefits of the Grameen Model. Now, while the pandemic is gradually being controlled, more low-income groups who resume production are hoping for economic and psychological support. Gao Zhan encourages the members here to join Grameen, excavate their potentials, expand production and operation and social networks, so that their children can get better education and families can develop further.